We were back in Pittsburgh over the weekend seeing friends and family and doing some wedding planning, so forgive the lack of posts the last few days. I had a few typed up to cover the weekend, but with everything going on I never got a chance to log on and post them.
I brought came back with some new additions, but I'll save those for later in the week.
Today, I want to turn my focus to one of my favorite aspects of my collection: Pirate cards of guys who were never actually Pirates. Of course there are countless cards released under the Bowman brands of "prospects" (and I use that term very loosely for some of the Pirate minor leaguers who have ended up in Bowman sets over the years) who are photographed in their spring training uniforms, or photoshopped to appear in a big league uni. But far more rare are the major leaguers who appear in a mainstream set without ever playing for the team. As spring training opens up, each team brings in a handful of players as non roster invitees. Most have at best an outside shot at cracking the big league roster, and instead will fill in a few innings in split squad games before heading to AAA and hoping a spot opens up on the big league roster. But it seems a few players enter training camps each year almost a lock to fill a glaring roster vacancy, barring the unexpected. And the unexpected doesn't always match up well with Topps' checklists.
Perhaps most notably, one-time super prospect made a brief appearance as a Pirate on his 2005 Topps card. Grieve entered camp as a NRI with a decent shot at cracking the Pirates outfield depth as a RH bench bat in a lefty heavy lineup. By 2005, Grieve had evolved from super prospect to budding star to journeyman outfielder, all in the course of a few seasons. But Grieve was cut during camp, and opted for free agency before ever appearing in a regular season game with the Buccos. He managed to catch on with the Cubs, but would be out of the majors for good after the 2005 season.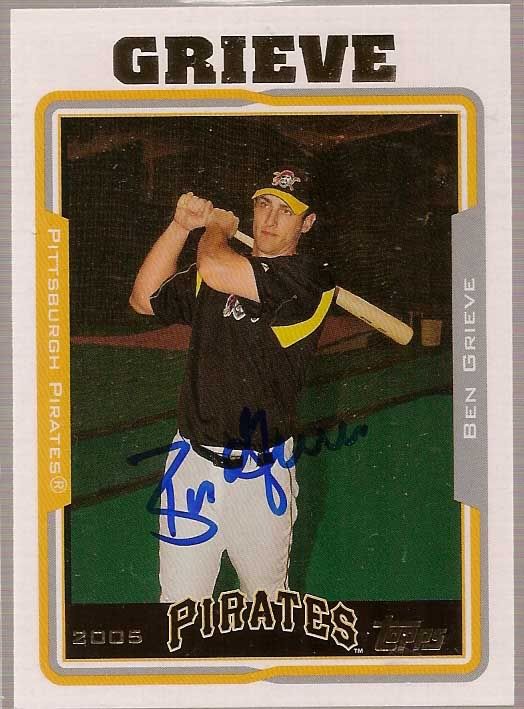 In 2002, a pitching starved club brought in ten year veteran Pat Rapp to bolster a rotation that had been ravaged by injuries the year before. A solid innings eater, Rapp had gone 5-12 with a 4.76 ERA for Anaheim the year before with a nearly 1/1 K/BB ratio. Like Grieve, Rapp would be cut during spring training, opting for retirement rather than taking on journeyman status.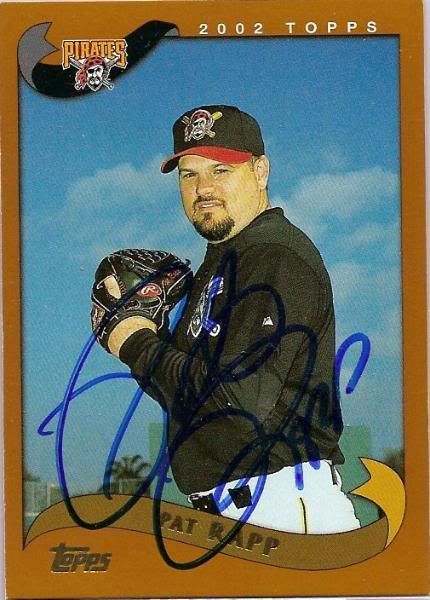 Last, but certainly not least, is perhaps the player who best epitomizes the Pirates two decade losing streak: Darren Lewis. At the tail end of a dozen years in the majors, Lewis was a speed & defense first outfielder who found the former skill rapidly deteriorating as he entered his 30's. At the 2002 trade deadline, the Cubs shipped Lewis to the Pirates for one time prospect Chad Hermansen. Lewis would likely have profiled in a defensive replacement/backup centerfielder role, spelling .216 hitting Adrian Brown. Instead, Lewis decided anything was better than playing for a lowly Pirates team, refusing to report and opting to retire instead.
While this anecdote in futility is blog worthy in and of itself, it's only topped off by the fact that Topps still saw fit to include Lewis in that year's Traded set. Heck, if you already paid the intern $7 to airbrush the photo, why not use it?