Shiver me timbers. For those not keeping score at home, today is National Cereal Day. Like it or not, baseball cards have a long history of being paired with some consumer product. Whether it's tobacco, gum, or cereal, today's hobby is a far cry from the days of trying to use cards to sell something else.
But my favorite pairing has to be cereal and cards.
There's just something about the two that feels right. And when paired together, cereal cards pushed the envelope into new hobby territory.
Whether it's the 50's Post cards or Kellogg's 3-D cards, the designs and style provided a fresh take on cardboard. Topps' designs are iconic because they had a monopoly through the Golden Age of collecting, and their cards were the most widely and easily attainable. A kid could save his nickel and go buy a pack of cards. If you wanted a cereal card, you were probably going to have to wait for mom to go buy another box.
But the cards? Absolutely amazing.
But it's not just the cards themselves. Cereal cards touched territory that Topps never made it to, and for a specialty set had a surprisingly deep checklist.
Want a Goose Gossage Pirates card? Kellogg's was (and is) your only option.
Even though I wasn't around for the prime years of cereal cards as Kellogg's pumped out amazing set after amazing set, to me they represent all that was once great about the hobby. Baseball, and baseball cards, used to be everywhere. Food issues. Denny's Grand Slam cards. Heck, you could even get you own baseball cereal.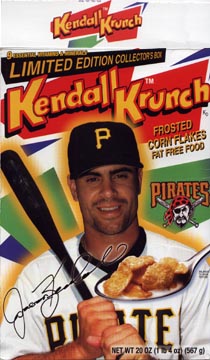 The profile of baseball has fallen off the map. The Commissioner can cite pace of play, commercial breaks, extra-inning games, or anything else he likes. But in my mind, it comes down to the fact that the average family has been priced out of the game. Want to go to a game? Ticket prices are likely to be 100-150% higher than they were at the beginning of the century. Hell, Pirate tickets are 100% higher than what I was paying at the beginning of the *decade* Want to watch your team? You'll need a premium cable package. Want to watch a game on prime time TV on a major network? Good luck.

I was discussing the changes to the game on twitter (@battlinbucs, if you don't already follow me), and thought about how often I was able to watch the Cubs on WGN and Braves on TBS as a kid. I didn't love either team, and outright hated the Braves because of what that one-legged Sid Bream did to my childhood. But watching games day in and day out was what made me fall in love with the game. And being able to collect cards just doubled down that excitement.
The last cereal cards I remember were in 2002. Food issues as a whole barely exist, thanks in large part due to the exclusive licensing that Topps has. But don't blame Topps. MLB started the exclusive licensing plague that has run rampant over the hobby. Again, I'm putting this all at their feet.
While other leagues have taken cross promotion and leveraged it to make their game boom (I'm overlooking the NFL's recent struggles because their absurd growth over the previous decade couldn't be sustained, and some slideback was inevitable). MLB has grown their revenue, but the game's overall profile has been lapped by basketball and football.
I don't know that we'll ever see cereal cards make a true comeback that isn't a one-off mini promotion with 15 or 20 cards. I doubt it, even though it makes sense. But for today we celebrate the great cards that used to fall out of our cereal boxes.