Sometimes perspective can make all the difference. For each of us, our relationship to the hobby informs and shapes the ways we collect. Obviously factors such as budget, interests, favorite team, etc play a large role as well. But while skimming over some cards on COMC today, I started came across "the card."
The Card. Everybody who collected as a kid has one. It was the white whale, long before the term was hijacked by mediocre, overpriced Topps products or thrown around haphazardly on message boards. For some, it is the mystical card just beyond your grasp - an 89 Griffey or 52 Mantle that eluded you in packs as a kid - or that card that taunted you each week in the card shop showcase.
And perspective ultimately makes all the difference. Whether that elusive card is a high grade copy of a vintage Topps card or a modern insert, or somewhere in between, is likely dependent upon your age and what the hobby looked like at that time. I've already
discussed spearing my white whale.
Instead, the card that caught my eye years ago, but been long forgotten since.
Growing up in the late 90's/early 2000's, I would spend nights combing Beckett, gazing at the various inserts and parallels each set had to offer in their grainy, black and white photocopy on the page as I agonized over which packs I would buy on the next trip to the local card shop. Though numbered inserts were plentiful in sets, my packs never seemed to yield anything drool-worthy, and the pricetags on the inserts in dealer showcases in the store and at card shows put these most desired cards beyond the reach of my pre-teen budget (and even my wily ability to whine my parents into submission)
But there on COMC, staring at me for a mere dollar was the zenith of my pre-teen cardboard bliss.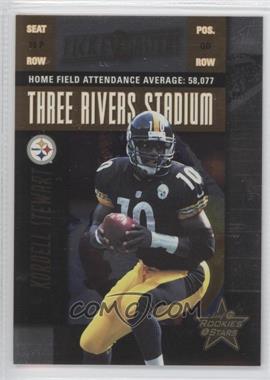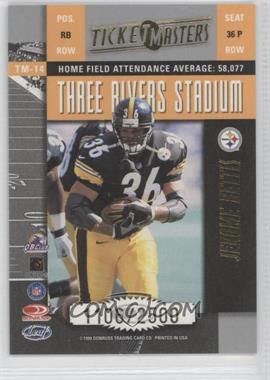 The epitome of cool, the 1999 Leaf R&S Ticket Masters insert featured the Steelers two biggest stars, including my favorite player Kordell Stewart. I loved the ticket stub esque design, and in what was the epitome of awesome to my 11 year old brain, IT WAS SERIAL NUMBERED, stamped in majestic gold leaf /2500.
Breathe, Mark. As I said...perspective.
Over the last few years, I've been able to add many of the cards that once seemed impossible. The cards I could never afford, or never find, suddenly were right in front of me at bottom dollar prices as the collecting world tuned its attention towards the newest, shiniest, craze.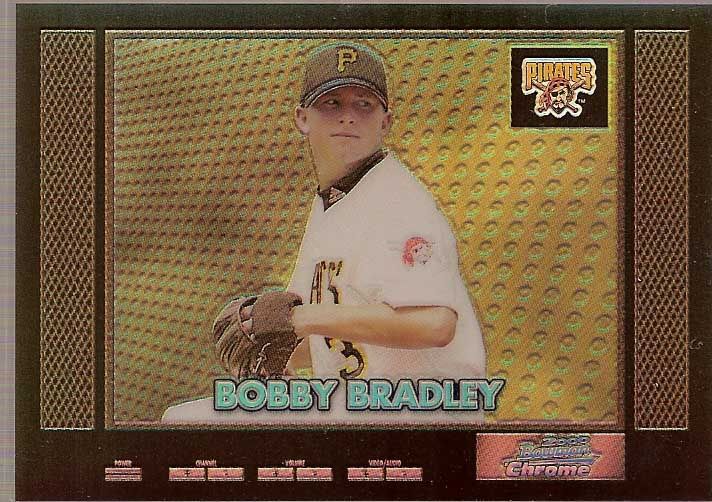 As a kid, cards like this seemed a million miles away. They were those cards at a show I could do little more than dream about. As the hobby shifted towards autographs and memorabilia, the cards I fancied most still seemed impossible. A dealer knew a friend who knows a guy who might have a copy. Stop back next show and I'll see what I can do. It was the impossible dream.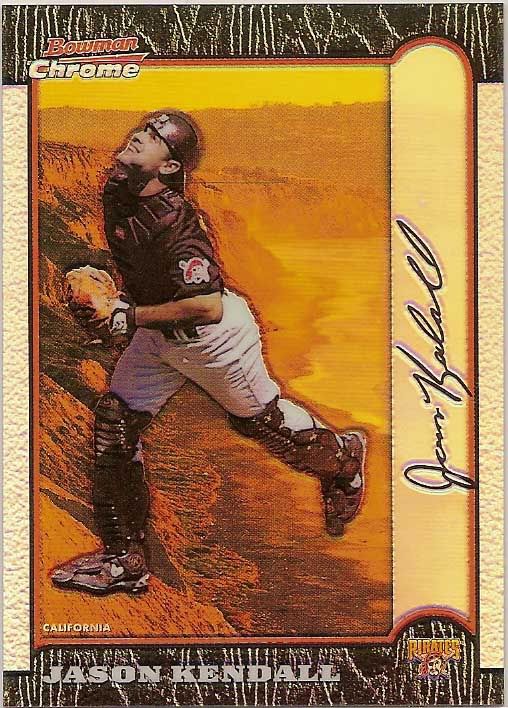 As the hobby shifted and I discovered the joys of ebay, my perspective was again altered. I could find common autos for $3 or $4? A Brian Giles auto for $10?
But again, it's all about perspective. Now I bristle at the idea of playing more than $1 or $2 for common autos, and I buy up the likes of Giles, Kendall, or Jason Bay for a mere fraction of what would once have constituted a good deal. For what one tantalizing, taunting Kordell Stewart insert would have cost pre-teen me in 1999, I can now have an entire stack of them shipped to my door. So I don't mind if others prefer to chase shiny prospects, gamble on the next big thing. I'm reliving, or maybe more accurately living, my childhood collecting dreams, filling holes and bringing back memories.
And for my money, you can't beat that.