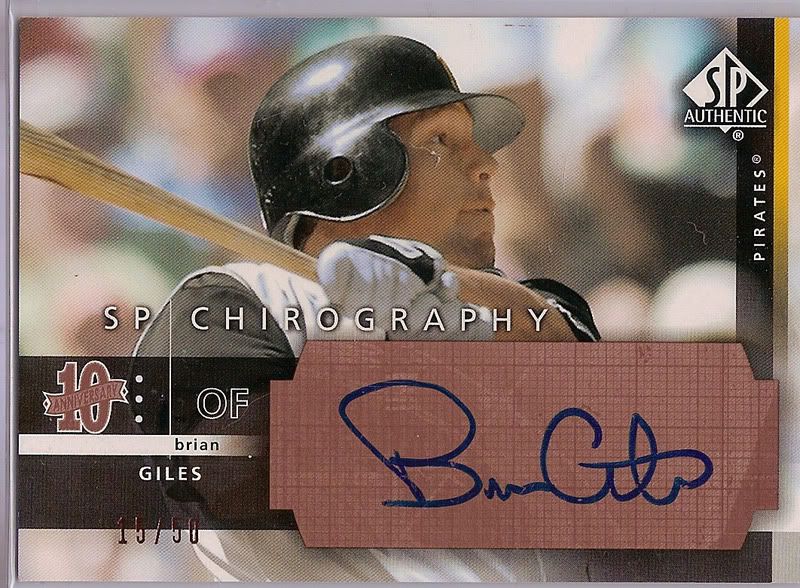 Card collectors, and perhaps sports fans in general tend to have short memories. While we cheer for the current stars and dream on the next wave of prospects, the last round of players quickly fade from memory.
After all, how many Jason Kendall jerseys do you see at PNC Park, and what happened to the thousands and thousands of Kordell Stewart jerseys sold in the Pittsburgh area? There seems to be a fine line between when something evolves from being old and unfashionable to vintage and trendy.
While most Pirate collectors have moved on to Andrew McCutchen and Neil Walker, many seem to have forgotten about another star who not so long ago occupied the Pirates outfield, Brian Giles. Granted, Giles was never the most fan or media friendly player, and his time in Pittsburgh was relatively short (5 years). Rumors of steroid talk and domestic violence charges certainly didn't help.
But Giles' production while in the Burgh unquestionably puts him among the top Pirates of all time. Yet his card prices dropped almost overnight in recent years, and he seems all but forgotten to Pirate collectors.
But that just makes it easier for me to add cards, right?
Coming to Pittsburgh in 1999 from a stacked Cleveland Indians team (when your bench includes young Richie Sexson and Brian Giles, you're doing pretty well), Giles immediately established himself as the premiere force in the Pirates lineup.
The early 2000's were perhaps the low point of the Pirates historic losing streak. Despite having upper tier talent on the roster in Giles, Jason Kendall, Aramis Ramirez, and Jason Schmidt, the team played exceptionally bad baseball in the newly opened PNC Park. Giles was perhaps the brightest spot on some very, very forgettable teams, playing MVP-caliber baseball largely unknown to the national media spotlight.
So perhaps it shouldn't be a surprise that even Pittsburghers seem to have forgotten Giles' tenure in the Steel City. Still, Giles produced some of my favorite Pirate moments ever, and for all his shortcomings is a player who produced some great memories for me while in a Pirate uniform.
In addition to his production in Pittsburgh, Giles also left the Pirates with a nice parting gift on his way out of town, bringing back future Rookie of the Year Jason Bay and one time drool-worthy lefty Oliver Perez in the trade with San Diego.
The moment was also captured on Giles' card in Fleer Triple Crown the following season. How awesome is that?