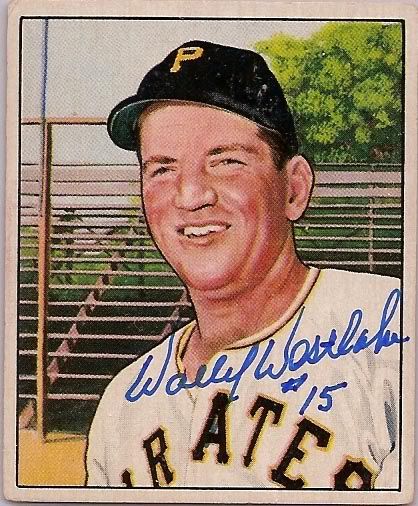 I'm working on a longer, more measured post on the Topps exclusive extension, so forgive me if this post ends up being rather abbreviated.
Wally Westlake is one of my favorite Pirates who I never knew was a Pirate. Wally was one of the first vintage Pirate autographs I received TTM when I first started expanding my collection, and still holds a special place in my collection. He wrote back a short but exceedingly gracious note, and also included a signed 4x6 photo of himself.
As I looked into Westlake's career, I was surprised to find out he was a pretty good ballplayer, lost to the black void that was the pre-1960 Pirates. Though he didn't reach the majors until age 26, hitting 17 home runs in his rookie season. He had a nice run, peaking with a 23HR, 104RBI season in 1949, and following it up with a similar campaign in 1950 and an All-Star nomination in 1951.
Westlake was traded at midseason during the '51 campaign. Though his playing time sharply dropped off after leaving Pittsburgh, Westlake went on to play for five more teams as a reserve outfielder through the 1956 season.
To me, players like Wally Westlake are an interesting and fun study in both the role of sports and the evolution of the game. And perhaps it can even be extrapolated to say something about the card industry itself.
Westlake was undoubtedly a good baseball player, and posted some very, very good seasons, but did so in an era when players were poorly compensated financially and their public profile paled in comparison the the economic and social status modern day athletes reach through their celebrity and things like endorsement deals. Instead, Wally Westlake is probably a name very, very few baseball fans know.
An immediate comparison that comes to mind on the modern day Bucs is Garrett Jones. Jones was a late bloomer, but has gone on to post some nice power numbers with the Pirates, as well as becoming a local favorite. Ultimately I'm curious to see how baseball history and public perception will treat Jones a decade or two down the road in this digital age. Will he continue to be remembered as a popular player on some bad teams, or will he too fade into baseball's collective conscience?
And maybe there's a lesson to be learned about our hobby as well. Things invariably change; both players and card companies will come and go. Westlake's 1950 Bowman above is an absolutely beautiful card marking the pinnacle of his career and a period of relative uncertainty for the card industry. By the time Westlake retired a few years later, the card market had shifted exponentially, and the longstanding Topps monopoly was underway. Perhaps by the time Garrett Jones is wrapping up his career, the card landscape will again be shifting in a new direction. Then again, maybe not.