It's been years since I have opened any wax, save for the stray pack here or there. And there's countless good reasons for that, but one of the most pressing is the insane price of many of the products coming out. High end wax is, at best, a gamble that people keep coming back for time and time again.
But do you remember what high end products used to look like? The late 90's saw the first wave of truly high end products - great designs, cutting edge technology, and the array of inserts and "hits" that collectors now expect in every pack. One of my favorite such products was 1999 Upper Deck Encore. A condensed version of the Upper Deck base set (a la modern day Topps Chrome), Encore featured rainbow foil base cards, a ton of great looking inserts, and tons of fun.
Like so many 90's products, the set was light on Pirates. Half a dozen base cards, zero inserts - and one of my all-time favorite parallels. Encore Gold cards were numbered /125, and a relatively tough pull at the time. The cards featured the same rainbow foil as the base cards with a gold background. But even the base cards put most modern inserts to shame.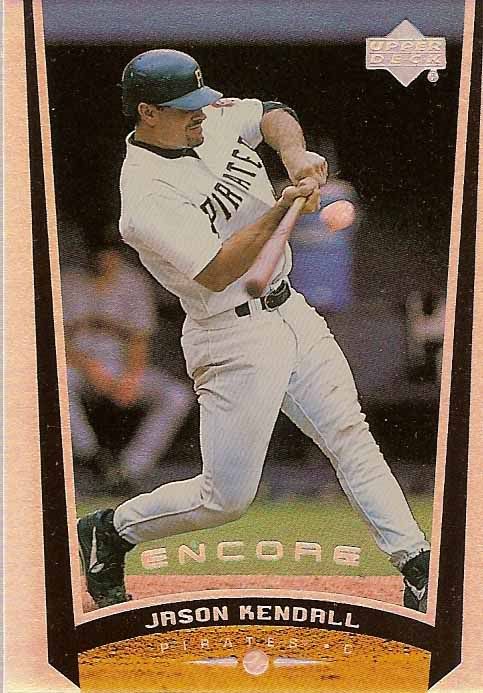 I opened a box of 99 Encore a few years back, and it was one of the most fun breaks I've had to date. The box yielded a complete base set, minus SP'd rookie cards, around 2 dozen great looking inserts, a Travis Fryman Encore Gold, and a Tony Clark game used hat card. In 1999, the box would have been a goldmine. Still, well worth the $20 or so I paid for the box, and a blast to see many of my favorite players from the late 90's coming out of packs that never would have been in my card budget at the time.
It's nice to see Topps putting some more creativity into inserts - sharper designs, more die cuts, and some cool throwback concepts have made their way into sets over the last few years. Still, I'd much rather see high end sets that look like this than the busy designs with a couple splinters of wood and a hideous autograph sticker that come out of most "high end" products these days.