I consider myself pretty involved in the hobby. Sure, I'm no national dealer or big time box breaker. But I attend a pretty broad range of shows, from 100+ table regional and national shows to the 15 table hotel variety. I have thousands of thousands of cards, more than I'd like to admit. But sometimes the hobby just leaves me scratching my head.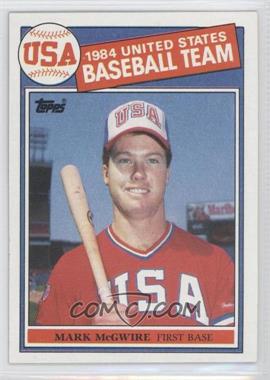 There are certain cards that, at one time or another, reached iconic status. 1989 UD Griffey. 1985 Topps Big Mac. 1968 Nolan Ryan. Or the Mattinglys, Nomars, et al that have faded from their one-time icon status. Whatever the card or era, there was that card that made you the envy of everybody on the playground, hobby store, or card show.
That part I get. But the part that confuses me? There are those cards that have or held iconic status in the hobby - the one that just about any real collector would gladly have in their collection for the right price. And I never see a copy at a card show.
Let's set aside vintage or high grade. I'm sure if you look hard enough and have the cash you'll find a Ryan RC at a show, and I'm sure every National a small stack of graded 52 Mantles trade hands for more money than I make in a year. But what about the cards whose hobby luster has dulled?
There are about half a dozen 1985 McGwire USA cards listed on COMC for under $5. At one point the card was the hottest thing in card collecting, and probably something that collectors and the casual public alike were familiar with. And I'd think that it's a safe bet that there are over a million copies floating out there, so it isn't particularly rare. But I honestly don't remember seeing a copy at any card show this side of maybe 2001.
The list goes on. The Nomar 92 USA card. Any Griffey rookies, 1989 or otherwise. Despite having nearly 16,000 Pirate cards, my 1987 team sets are missing both the Fleer and Donruss Bonds cards. There are 256 Barry Bonds 1987 Donruss cards listed on COMC. Sure, I could shell out the $1 for a copy online and have it shipped to my door. But there's something fun and exciting about finding a needed card at a show just like I did as a kid. But again...zip. Even the 87 Topps Bonds is tough to come by, though I have seen a few in $.50 boxes in recent years.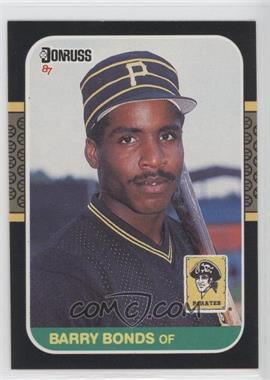 I'm stumped.
There have to be plenty of copies of these cards in circulation. And I'd think that there are probably plenty of collectors, just like me, who would gladly add one of these once-vaunted hobby icons to their collection for a few spare bucks on impulse if they came across it at a show. And yet...crickets.
Are they just not worth packing into the boxes dealers are bringing to the show? I know many dealers I talk to say that 90's stuff is worthless, and they only bring vintage or the most recent releases. Or maybe the bulk of these are with dealers who have packed up, left the hobby, and sit in the basement, presumed to be worthless since the bottom fell out. I honestly don't know. But I'd love to hear your take. Is it a regional thing? Maybe the Chicago Sun Times or East Coast National has a paradise of McGwire rookies that just never make it to Pittsburgh. Is there some totally logical explanation I'm missing? Or do I just never pull my nose out of the dime boxes long enough to find these white whales?