I started working on this post this morning, but ended up getting sidetracked half way through when I read about Yogi's death.
You have to be a special kind of tortured, masochistic Pirates fan for the name Walter Young to mean much of anything to you.
Young was drafted in the 31st round in 1999 by the Pirates. Recently fired Marlins scout Mickey White was overseeing the Pirates drafts. The Bucs found quite a few gems in the later rounds of the drafts during those years, though the management team that had drafted the played would be sent to pasture by the time the players were close to major league ready. It's not typical for much to be expected of a 31st round pick. But Walter Young wasn't exactly a typical baseball player. Young was listed at 6'5", 320. He would have fit in on the Steelers offensive line just as well as he would in the Pirates lineup.
He put up impressive numbers in the lower minors, and was one of a limited number of bright spots in a Pirates system that would take such sterling draft picks as Bryan Bullington during the dark days under Dave Littlefield. Young was moved slowly through the system, but put up some pretty impressive numbers in A ball in 2002 and 2003, smashing 25 and 20 homers.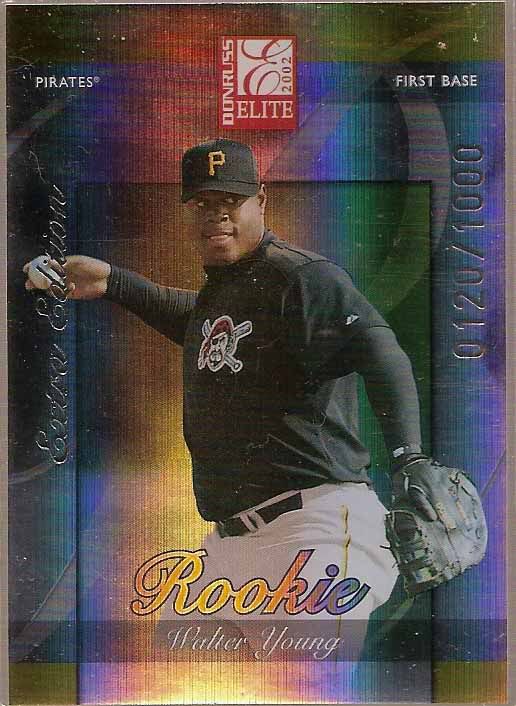 Did I mention it was the Dave Littlefield era?
The most logical way to reward these accomplishments? To leave a player exposed to waivers, despite some considering Young one of the top 10 prospects in the system. This was the same offseason where the Bucs left the likes of Jose Bautista and Chris Shelton off their 40-man roster despite having empty 40-man spots only to lose them to the Rule 5 draft.
Young would get claimed by Baltimore, and would continue putting up strong minor league numbers. He would get a cup of coffee with the O's and put up solid numbers during his short time with the team. But that would be the high water mark in his baseball career.