For me, becoming a team collector was actually a pretty long journey. From "everything" collector, to Jack Wilson player collector, to Pirate certified auto collector. But the jump between having a few hundred Pirate autographs and having 16,000 Pirate cards different Pirate cards, a wall of binders, and a mess that makes Kate consider murder every so often was a big one. And the turn that took me down that path was when I decided to start my Pirate autograph project.
Instead of just collecting a certified auto of every Pirate who had one, why not get an autograph of EVERY Pirate to every don the stylized P? That aspect of my collection has taken a back seat in recent years, but it's still one of the most enjoyable projects I can imagine. Because alongside autos of Stargell or McCutchen I have guys like Mario Mendoza and Don Kelly, and they're all just as important to the project.
So while I've posted additions to the Pirate autograph project here and there throughout the life of Battlin' Bucs, why not go through and show off all 586 different Pirate players whose scribble I've managed to acquire.
I've made the arbitrary start date of the project players who played post WWII, to give myself a little more manageable goals. But at about 56% completion, there are still plenty of autographs left to track down.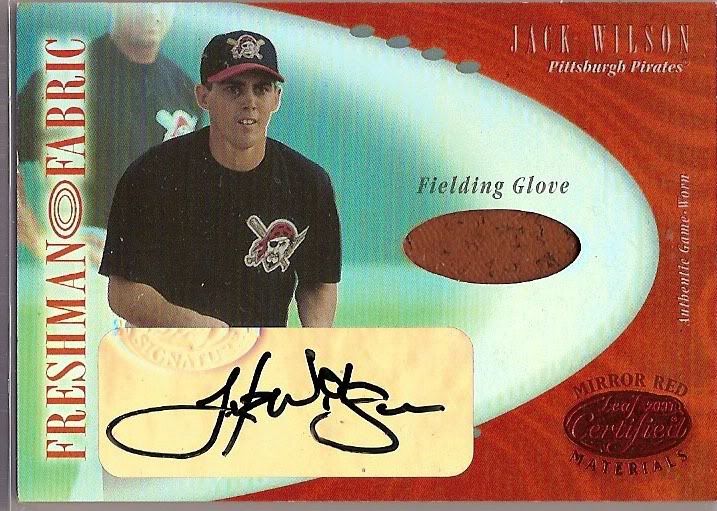 And what better way to start than with my #1 guy, Jumpin' Jack Flash. Of all the Wilson autos I have, his signature on his rookies is by far my favorite before he switches to a less intricate and more loopy signature.

Over the coming months, I hope to get around to scanning and posting all 586 (and counting) autographs, and maybe even getting back to making a little bit of a dent in the project this year. Hope you guys enjoy following along!