I have more posts than Willie Stargell, Ralph Kiner, and Lou Gehrig. When I started this blog, I wasn't sure if I would actually start this blog. Makes sense, right? I had wants to start a blog since 2006, when I dreamed of providing witty and insightful commentary on some terrible Pirates fans to the other ten Pirates fans that still cared enough to read about the team on a daily basis.
Over the next few years, I was in a vicious cycle where I would post an introduction post and...then the blog would sit for two years until I tried again. When I decided to start this version of the blog, I had no idea what it would really focus on. Cards, sure. The Pirates, yeah. Within my first few weeks on the blogosphere, I started reading other blogs like Night Owl and Nick's Dimebox adventures. I love collecting so many different things beyond my (slightly out of control) Pirates collection, it was great to finally find a place where the posts that get the biggest hits are the quarter cards you find at a flea market. Try to post that on a card forum, and you'll be chased off with pitchforks and Superfractors.
Since I started the blog in 2013, a lot has changed in my life. I escaped the cornfields of Ohio. Got married. Bought way too many cards, made some trades, and met some really cool people through blogs.
There have been some very extended gaps in posting, whether because life got in the way or cardboard got out of the way. While I can't say I ever seriously thought about ending the blog, I can honestly say I'm surprised it's still alive and kicking. There were so many extended pauses where life could have zigged or zagged, and that pause became indefinite. But if anything, I'm hoping to be more active posting in the coming months.
So to celebrate number 500, here are 5 of my favorite cards from my collection.
5) 2000 Topps Opening Day Warren Morris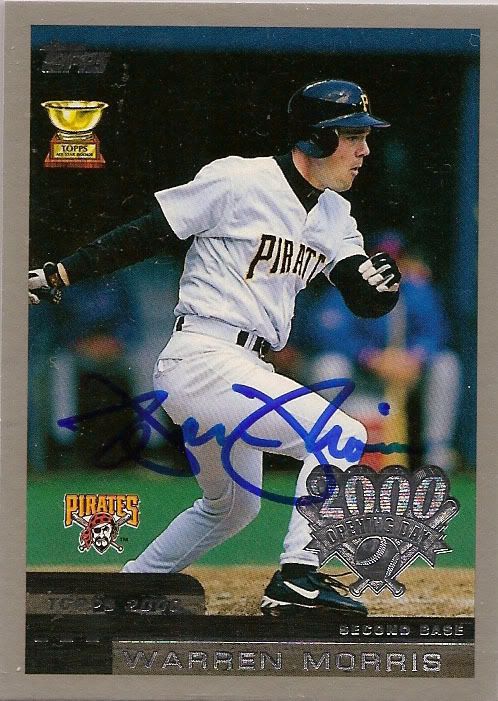 On a hot summer afternoon in 2000, my dad took a couple hours off work to pick me up and take me to a card shop on the other end of the city. One of his clients was having a Warren Morris in the store for a free autograph session. I brought along the two Morris cards I had duplicates of (for years the only cards I would get signed were ones I had doubles of). It was the first time I had met a professional athlete, and Morris could not have possibly been any more friendly. Granted, there were maybe a total of 8 people in the store, including Morris and the store owner. But that memory - great time spent with my dad, and catching the autograph bug, are memories that go a lot deeper than cardboard and ink.
4) 2005 Prime Patches Triple Logo Patch
This is the card that made me join ebay. Or more accurately, annoy the hell out of my mother until she gave let me use her credit card to sign up for a paypal account and join ebay. I was obsessed with this card, and even though game used has lost its luster this is still one of my favorite cards.
3) 1991 Topps Dwight Smith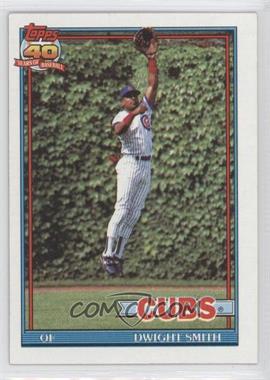 1991 Topps #463 - Dwight Smith
My first pack of cards came in 1991 when I remember going to the gas station with my dad. A trip for gas always means a slurpee. But for one reason or another my dad decided to get me a pack of cards as well. The top card of the pack was Dwight Smith's 1991 Topps card. Smith, with a slight leap set against the ivy backdrop of Wrigley. I knew nothing about baseball, the Cubs, or Wrigley field. I was probably more excited about the stick of gum. But I still have that card in a snapdown.
2) 2001 Donruss Elite Status /12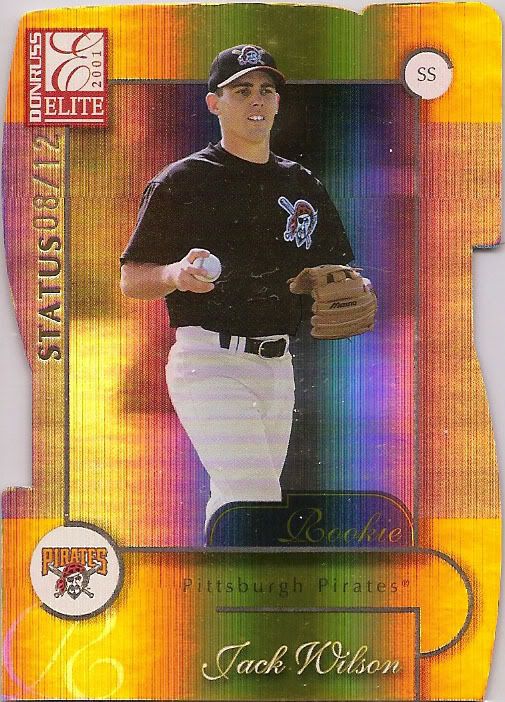 In the spring of 2001, I decided to start collecting a slick fielding shortstop who I was reading about in the newspaper. I had just gotten back into cards less than a year earlier, and was looking for a collecting focus. I remember going to card shows early in 2001 and asking if dealers had Jack Wilson cards. They didn't even know who he was. I had a bit of luck on my side - eight and a half seasons of fantastic play, memorable summers, and an all-star appearance. You can keep your Ichiros, Pujols', and Mark Prior(!) cards. 2001 was all about Jumpin Jack Flash for me. And there nothing beats a beautiful die cut rookie.
1) 2004 Fleer Hot Prospects Past, Present, Future Autographs /33
This card was my white whale for the longest time. My favorite player, paired with a Hall of Famer, and a local kid who was a first round pick? I think I finally landed a copy around 2006 or 2007, when it looked like Neil Walker was headed for a very lackluster career at best. Even then, I adored this card. The fact that he has bloomed into a really solid player just makes it that much sweeter.
I'm at a bit of a crossroads in my collecting life. The cards above still excite me every time I look at them. They're special pieces of my collection that are invaluable to me. They're also subtle reminders that I haven't added a card that I enjoyed this much and got this excited about in years. Maybe it's just me getting older, and maybe it's the changes to the hobby and staleness of Topps products. And the number of cards out there on my "must have" list that aren't Jack Wilsons is a very, very short list. Either way, I'm finding myself having more fun with Photoshop and a inkjet printer than I do chasing cards from the newest releases. I'll never stop collecting, but how and why I collect may look a lot different. I don't know. But here's to another 500 posts to figure it out.