Yesterday I posted my
trial run
at repurposing an autograph sticker. Well, that was all just a warmup for the project I really wanted for my collection.
The 2013 season was a really special one for me. I started the season watching Pirate games on mlb.tv in our apartment in Lima, Ohio, 5 hours from home, family, and PNC Park. I ended the season inside PNC Park, watching the most exciting baseball I have ever seen. You probably know all the rest - playoff drought, Blackout, Cueto, etc.
I know Topps has been fickle in recent years, but I felt like there was a good chance that there would be at least one or two awesome Pirate cards commemorating their playoff run. Maybe a Highlights card in Heritage, or a playoff recap card in Flagship.
Or...not. Topps did put out an awesome looking 2013 Postseason set of game used, autos, and combo cards. Pedro Alvarez has a patch card, and Andrew McCutchen has a jersey relic. And I managed to get outbid or forgot to bid on every single copy I saw. So those remain as two of my remaining grail cards.
But I was a little disappointed that Pirate postseason heroes like Russell Martin and Marlon Byrd were left out of the set in favor of star power.
I actually bought the sticker during COMC's end of year sales. It started out as one of the really, really ugly SP Signature cards.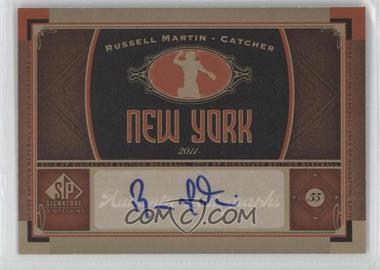 2012 SP Signature Collection [Autographed] #NYY 14 - Russell Martin
I had the idea of repurposing the sticker at the time, but had no idea what I would stick it to. Maybe a 2013 base card? Would I dare to make a custom? When I saw some of the Postseason cards coming out of 2015 Topps (the Pirates were entirely excluded this year), I figured it was time to see if I could whip up the 2014 design.

And that great white space to the left of the card was just screaming for an autograph.

This card was actually a lot more stress and difficulty than the Lough auto I posted yesterday. The Panini sticker came right off, while UD's sticker was...well, sticky. I was so frazzled from getting the sticker off cleanly that my first attempt actually ended up in the trash. In my haste to get the sticker onto the card, I placed it right below the bottom of the postseason logo. It ended up looking off balance, and covered up the postseason patch on Martin's arm.

Luckily I was able to print another copy and loosen the sticker before the adhesive fully dried. I'm a lot happier with this copy, and love the way this turned out. I'm hoping between stickers and some TTM autographs, I might be able to create a set for the majority of the playoff roster.

If anybody has any extra sticker autos of any of the Pirates from the 2013 team, I'd be happy to trade for them.